AAHA = Amicale Alexandrie Hier et Aujourd'hui : www.aaha.ch
GATHERINGS AND REUNIONS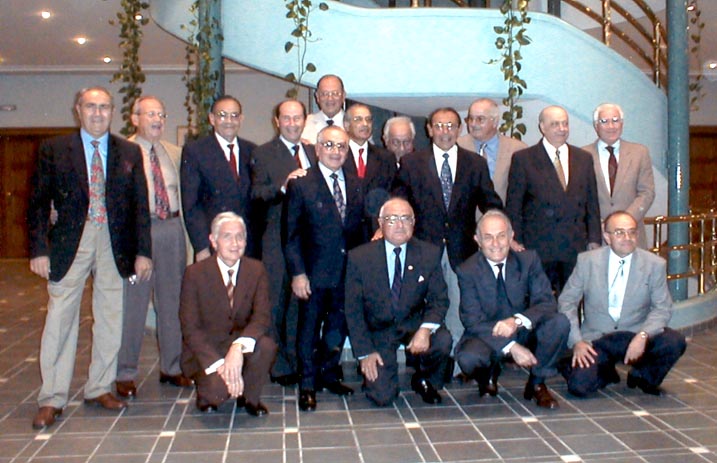 Saint-Andrews Scottish School Students Reunion,
Crete, October 4-11, 2001
1st.raw standing from left to right : Sebastiano (Nani) Carpentieri (Italy), Andrew Manny (Australia), Amir Choukry (Egypt), Alfeo Lombardo (Italy), Mildiadis (Paper) Myridis (Greece), Isaac Souroujon (Israel) , Leon Castro (USA), Vahan (Zizo) Hekimian (Greece), Victor (Toy) Baruch (Canada), Isaac Barouchel (Brazil) ,
2nd.raw from left to right : Gilbert Civardi (Italy), Antoine (Tony) Sourour (Egypt), Joseph (Joe) Mouhtouris (Australia), Enrico (Riri) Matalon (Italy), Gilbert (Gigi) Costantinis (Israel).
Also Ronnie Harounoff (United Kingdom), not on the photo.
A group of old students of St Andrew's Boys School in Alexandria, Rue Pereira had the opportunity to contact each other 12 years ago. They thought it would be a good idea to search for their class and schoolmates spread around the world. Victor (Toy) Baruch, called the "Omdah", has been very active and the first result was that a significant group met in Athens, in Oct. 1990. This was the start up to consider gathering by intervals of short periods 1-2 years. Unfortunately the war in the Persian Gulf ruined our plans and although most of the group kept regularly in contact, the international situation was not an allied to promote our plans to meet. In 1998 finally Victor took once again the initiative, and together with Zizo Hekimian and Nani Carpentieri, blew the trumpet to gather the troops. It was a success. The group met in Rhodes by the end of May 1999 with an attendance of around 60 persons. The year after, the echo of the Rhodes gathering grouped more people who adhered with enthusiasm to our initiative. The reunion was held in Corfu end of May 2000, with an attendance of 74 persons. This year the reunion was held in Crete, the attendance was reduced to 36 persons due to recent terrorist events that kept away the North America group, some from Latin America and some others that felt it was not safe to travel. The reunion was however a success. Excursions were organized daily to visit the island and its archeological sites. Hundreds of pictures were shot and recently distributed and exchanged by the participants. The next reunion was decided by majority votes to be held by the end of September 2002 in Grand Canaria (Canary Islands-Spain).
Further information about the St. Andrews' group initiatives can be obtained by contacting :
Nani Carpentieri, via Vincenzo Monti 8, 20123 Milano, Italy.
Phone +39 02 910 6347, Fax +39 02 7003 1021, e-mail : baladina@tiscalinet.it
Victor (Toy) Baruch, 116 Van Horne Ave. M2J 2T1 Toronto, Ontario Canada.
Phone + 1 416 493 0449, e-mail : toybar@sympatico.ca
AAHA = Amicale Alexandrie Hier et Aujourd'hui : www.aaha.ch