AAHA = Amicale Alexandrie Hier et Aujourd'hui (www.aaha.ch)
GATHERINGS AND REUNIONS
Sacred Heart Girls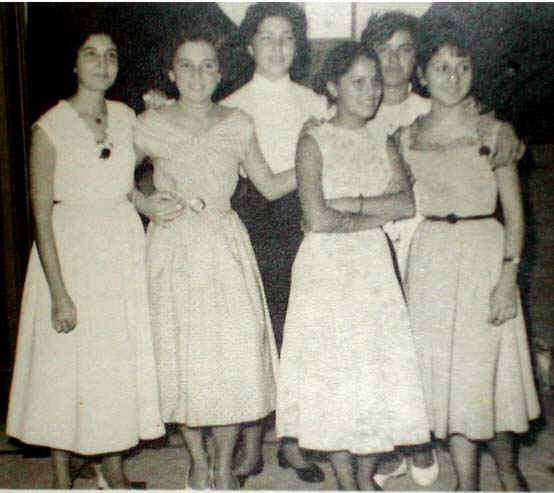 Yesterday, Alexandria, between 1954 and 1955
From left > right : Vilma Corcos, Edna Cassar, Sonia Zammar (Lebanon/Germany), Lilian Cassar, Sylvana Attard, Madeleine Farrugia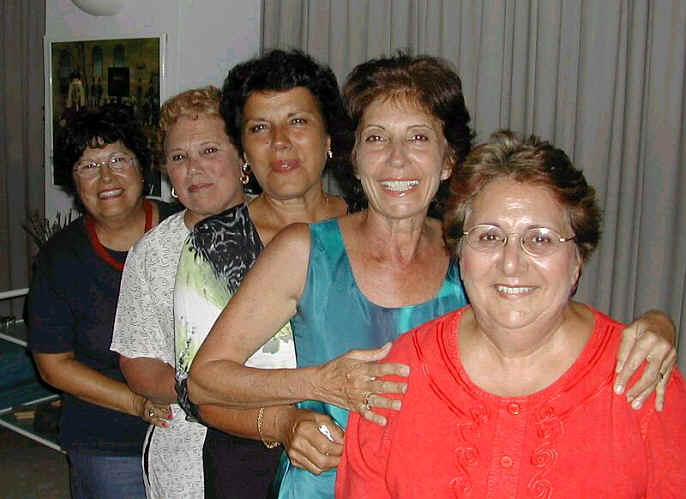 Today, Reunion in Malta after 47 years (June 2002)
The same Sacred Heart Girls from Alexandria in Malta
From left > right : Lily Savona -Cassar (Sydney), Edna Grigg-Cassar (Melbourne), Sylvana Attard (Rome), Vilma Gellert-Corcos (Rio de Janeiro) and Magda Henderson-Farrugia (Sydney)
By Glenn Grigg
, June 2002
Our small group was like many others coming to Malta. Some had been before, some had not. Some recognized they had a connection to the island-nation. Eash knew that either they or their spouse was an MBE – Maltese Born in Egypt. The group members came from Brazil, California, Sydney, Melbourne, Rome and Milan.
Salvino and Lily both had MBE heritage. They had visited Malta during their many trips to Europe. Both their families had left Egypt for Australia. Sal and Lily married and settled in Sydney. Lily and Edna shared the same surname before marriage, Cassar. Their fathers were first cousins and Lily's mother was also a first cousin to Edna's father. To understand it a pencil and paper is essential. Coming from a family with one cousin, the interlocking family relationships is something I have never grasped easily, even after thirty years.
The other downunder traveler is Magda. Magda's maiden name of Farrugia, confirms her MBE status. Magda's home is also Sydney. She is recently widowed and joining her cousins Edna and Lily to renew acquaintances with other ex-students of Sacred Heart School in Alexandria.
Vilma's family had left Egypt for Rio de Janiero. Her family had Italian and Greek ties but with best friends with names of Farrugia, Attard and Cassar, Malta had always been an intrigue unfulfilled. Like all Europeans in Egypt, Vilma was confident in many languages but Brazil meant a new one - Portugeuse. The parents of her husband, Sander had transported his family to Brazil at about the same time and their relationship meant another language remote from Egypt was needed - Danish. Her travel business requires her to work in eight languages in all of which Vilma is skilled.
Living in Rome, Sylvana had the least distance to travel. She had recently retired after working for FAO in Rome. She had never been tempted to visit Malta despite being an MBE.
The girls, Edna, Lily, Magda, Vilma and Sylvana had been together at Sacred Heart School. Their friend Giosi, a cousin of both Lily and Magda and living in Milan since leaving Egypt completes the female members of the group. Four men were from Egypt - Sal, Lily's husband; Leslie, Edna's brother; Roland, Edna and Leslie's first cousin; and Harry who had been everybody's friend in Egypt and again forty-eight years later. The remaining three men had married girls from Egypt, Sander to Vilma; Antonio to Giosi; and myself to Edna.
Roland was the last to arrive on our first day in Malta. Roly had left Egypt as a seventeen year old to study as an aeronautical engineer. He had worked for British Aerospace and his team designed the tail on the Concorde. His career took him to California to work for Douglas and McDonnell Douglas. Roly's flight arrived at 1.30am. Although Roly had flown from Los Angeles to London and spent the day in London before flying on to Malta, I woke him after only three hours sleep. He was to greet the next arrival, Magda who was to fly-in from Cyprus at 6.30am. Roly had rehearsed his meeting with his cousin – he was to be her Maltese driver and anticipated not revealing his identity. Alas, although they had not seen each other since 1952 his rehearsal was wasted as the minute Magda saw him he was recognised.
After three wonderful days touring, swimming and eating our bus drove us to meet a boat for transportation to Comino. The normally twenty minute crossing took approximately six hours as we had asked to swim and visit highlights around Comino. We swam off Gozo and had lunch within St Mary's Bay where we would later be accommodated at the Comino Hotel bungalows. A second swim was enjoyed at the magnificent Blue Lagoon before travelling on to the bungalows.
Three sun filled days were enjoyed at Comino where the spacious bungalows provided delightful views and access to the sea. Cocktails from our bar stocks were enjoyed in various bungalows. Dinner on the first night at the Comino Hotel was highlighted by Harry's surprise presentation of the national flags of each group member and the Maltese flag for later presentation to Leslie for his help with getting the group to Malta. The second night's dinner was tinged with sadness as we said farewell to Roly who would leave the next day. Throughout the tour Roly's enthusiasm and joy at being with friends and family he rarely has the opportunity to see was evident and his words of farewell included his pride in being of Maltese background and thankful for his father's wartime sacrifice to defend the island. Being an MBE, Roland was thrilled to have understood some of his father's experience sixty years beforehand. The night included one more highlight as we boarded the staff boat to Gozo to visit the festa at the Sacred Heart Church in Fontana. The pageantry, colour and excitement were a wonderful surprise to those who had not seen such a part of the Maltese experience before. The following day Roland did leave and there were no dry eyes ashore and certainly the waving Roly shed many as he disappeared out of sight on his way back to California via Sliema and London.
Following one further wonderful night on Comino we had to leave as the ship, Sapphire was to sail from Valletta with us on board. The first half of this day was destined to be a rush like no other. The boat left Comino on schedule at 8.45 and the hotel's General Manager, Marco Abdilla was there to farewell us, as he had been during each hour of our marvelous stay. The half hour bus journey to Sliema took longer than expected and we endured a lecture from the customs officials who could have left earlier if we had arrived as anticipated. An open bar caused most to miss the sights of the Grand Harbour only seen from the water. Fortunately I have the photos to prove the grandeur of Valletta and the Three Cities when viewed from the water.
Three days later the Sapphire returned us after visiting Naples, Sorrento, Pompeii, Messina, Taormina and Mt Etna. An unheralded arrival caused the group to again miss the wonderful entrance to the Grand Harbour. My photographs of the departure had taken on greater significance.
Sylvana was due to fly in from Rome to join us. Harry, Vilma and myself drove to the airport to meet her. Harry insisted on buying a newspaper to hide behind and was disappointed both Maltese newspapers were tabloid. He wanted bigger. From the moment the plane touched down Harry's newspaper covered him. When Sylvana did emerge from the baggage hall she was guided to an empty seat next to a man, seemingly engrossed in his newspaper . The newspaper eventually came down and Sylvana turned to recognise Harry, apparently unchanged in forty-eight years.
That night Vilma, Edna, Lily, Sylvana and Magda attempted the set up for a duplicate of a 1955 photograph. The faces were similar but wide angle lens were not required in 1955. If it took so long to set up in Alexandria for one photograph they would have missed the evacuation boat and probably the revolution too. Harry stood in unconvincingly for a missing sixth female.
Farewells began at La Favorita in Marsascala. Rizze, sea dates and many many other delicacies were a prelude to the opportunity to thank Leslie for his interest and constant help to ensure the group enjoyed their stay. Leslie's pride in Malta had reached everyone and all agreed to his suggestion that Malta was perhaps the closest to the land the group had in common, the Egypt that they had left in the fifties.
Over the next two days the group dispersed to their own corners of the earth but with memories that will not dim. Sander and Vilma's return to Brazil via Copenhagen was the last farewell and like all the others it was filled with sadness to be parting but gratitude to have had such a wonderful time together. Malta remains but each future visit will bring back the wonderful memories of a special group of people scattered to various parts of the world but brought together with their families by memories and a common background in Egypt and a shared experience in Malta.
Malta reunion, June 2002
Back row, from left > right : Sander Gellert, Lily Savona, Roland Cassar, Vilma Gellert, Magda Henderson, Hrant Leylekian
Front row, from left > right : Antonio Pezzoni, Giosi Pezzoni, Edna Grigg, Glenn Grigg, Salvino Savona.
Participants were as follows :
Glenn and Edna Grigg (Cassar) - Melbourne, Australia
Sal and Lillian Savona (Cassar) - Sydney, Australia
Sander and Vilma Gellert (Corcos) - Rio de Janeiro, Brazil
Madeleine Henderson (Farrugia) - Sydney, Australia
Sylvana di Filippo (Attard) - Rome, Italy
Antonio and Giosi Pezzoni (Pennisi) - Milan, Italy
Hrant (Harry) Leylekian - Los Angeles, California, USA
Roland Cassar - Atascadero, California, USA
Leslie Cassar - Sydney, Australia
AAHA = Amicale Alexandrie Hier et Aujourd'hui www.aaha.ch