AAHA = Amicale Alexandrie Hier et Aujourd'hui www.aaha.ch
GATHERINGS AND REUNIONS
Sacred Heart Girls' School
"Cor Unum"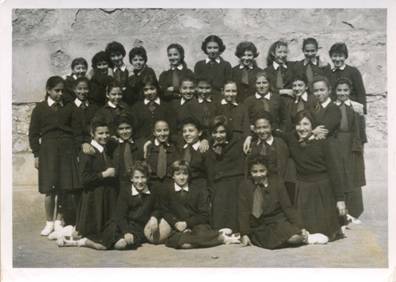 Reunion Classmates
Alexandria 1962 – Ostia (Rome), October 2008
From quiet homes and first beginning
Out to the undiscovered ends
There's nothing worth the wear of winning
But laughter and the love of friends
(Alfred Tennyson)
With great joy and extraordinary emotions, we have spent the last months preparing our reunion! Here we are at last – less than what we hoped – all of us so eager to catch up with years gone by. We said goodbye to each other in 1962, compelled by incomprehensible events to leave behind us our homes, our friends, our first loves, all our sweet memories and our special way of living; but still, now that we have "reached" each other again from the four corners of the world, it's as if we had only been away for a little while…..
Ibn Zaidun is a poet who in the year 1000 AD wrote:
May your true friendship be blest by true happiness
For you are like a fragrance to my soul!
Don't ever think separation could change the way I feel
For distance can hardly alter true affection.
I think there's nothing we should add to this, let us all keep these things in our hearts as precious treasures that nobody will ever take away from us.
I wish to thank Anna Serena Leone, Jenny Vafopoulo, Marcellina Mian, Marlène Keralla, Rina Aloi, Sylvia Kouhi, TeresaLaValle and Sibilla Malacrino for being here and for having decided that nothing could stop us from meeting. A special mention to our friends who could not make it to our encounter: Sonia Rizgallah, Thérèse Abdel Messih, Aurora Pisani, Olfat Gafour, Magda Abou Youssef, Elham Wahba, Nadia Khoury, Despina Frangoulis, Wilna Buccianti, Beatrice Van Rossen and Penny Dorward. Warm thanks to Despina Petrakis for her kind participation.
In our motto "One Heart" the memory of our beloved friends who have passed away: Slawka, Ivy and Nicole.
Love.
Eliana Palermo
AAHA = Amicale Alexandrie Hier et Aujourd'hui www.aaha.ch