AAHA = Amicale Alexandrie Hier et Aujourd'hui : www.aaha.ch
GATHERINGS AND REUNIONS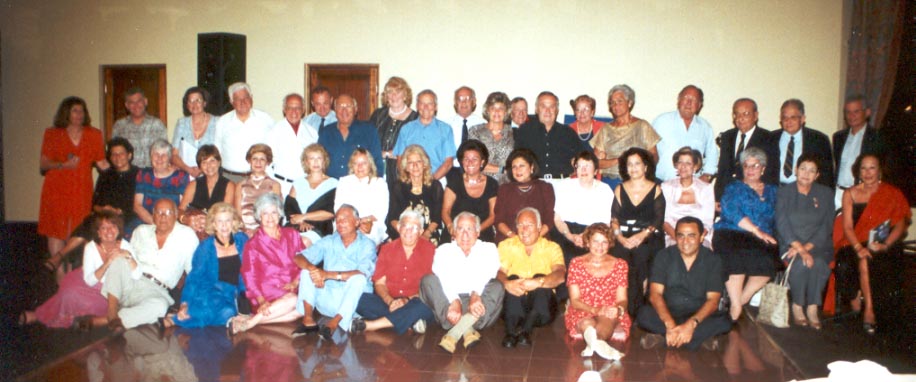 VC - EGC - SHS International Reunion
Hotel Dedeman, Antalya, Turkey, September 8-15, 2001
The annual "Old Victorians"reunion was held at the sea resort of Antalya , Turkey.
Due to the success of last year's reunion in Agadir, Morocco, the formula introduced by Samir Zalzal, president of the "Old Victorians Association" was once again put into use.i.e. VC + EGC + SHS = SUCCESS.
The responsibility of organizing the reunion was entrusted to Costa Caradimitropoulo, a dedicated "Old Victorian". The fifty-two participants were representative of practically all continents. Mother Nature blessed us with beautiful warm weather, thus putting surf and sun on the daily menu and rendering the various excursions most enjoyable.
When it was time for us to part a quote from Shakespeare's 'Macbeth' came to mind......"When shall we three meet again....." "VC+EGC+SHS..? In 2002 the Victoria College will be celebrating its centennial and a four days celebration is planned for September 2002 in Alexandria, Egypt. Obviously the designated destination of Egypt was welcomed by all present. Looking forward to 2002....INCHALLAH !!!
Nicole Biancardi-Francescutti.
Old Victorians (Alexandria and Cairo) : Co-ordinator : Fred Yazgi (Switzerland), Adib Barsoum and Joy (Penn., US), Robert Mussawir and Rosemira (Spain), Antoine Bassili (Austria), Pierre Ackad and Karen (Germany), Samir Zalzal and Rosette (Canada), Costa Caradimitropoulo and Georgia (US), Elie Fiani (Australia), Abdel Hamid Kaseem (Egypt), Arto Kirikian and Boyana (US), Theo Klat and Annie (Switzerland), Klaus Lewin and Pat (US), Roly Zamaria and Joan (Spain), Johnny Riches and daughter Minouche (Italy), Ulrich Lutz and Ljilja Damsanov (Germany), Djehan , representing her deceased husband, keen old VC Hassan Hussein (Egypt), Osman Ragheb and Marie-Paule (Germany), Johnny Shafferman (France/US), Ahmed (Nounou) el Gammal (Egypt).
Maiden names first-married names
Old EGCians (Alexandria) : Co-ordinator : Celia Cohen-Male (U.K.), Simone Hassan-Dana and Gaston (Switzerland), Jocelyn Francis-Riches (Italy), Nadia Kamel-Zaghloul and Kamal (Egypt), Diane Levi-Abecassis and Mony (Switzerland), Omneya Abbassy-Hussein and Ahmed (Egypt), Kitty Elzik-Butcher (UK), Joan Gibson-Zamaria and Rolly (Spain), Claude Yazgi-Bassili (Austria), Inass Hassan-el Gammal (Egypt).
Old Sacred Heart (Alexandria) : Co-ordinator : Nicole Biancardi-Francescutti (Canada), Linda Ischay-Stroun (Switzerland), Marlene Strong-Crowdy and Ron (UK), Suzanne Assaf and sister Jocelyne Assaf-Sargologo and Mr Jean Edeline (US), Susanne Dilenian-Heinzen (Canada), Sonia Debelak-Fiani (Australia), Claude Gazel-Beydoun and Mr Beydoun (Lebanon).
Guest : Nicole Risafi
AAHA = Amicale Alexandrie Hier et Aujourd'hui : www.aaha.ch