AAHA = Amicale Alexandrie Hier et Aujourd'hui : www.aaha.ch
GATHERINGS AND REUNIONS
Agamy Group Reunion
Mediterranean cruise and Barcelona
September 1st - 16th, 2010
Well here we are back home after another memorable reunion.
Mission accomplished and indeed another successful get- together for the Agamy Group !! Most importantly it was also a new 'format' more audacious than the Russia River Cruise in 2007. Here we were 26 participants sailing out of Venice for a 12 day Mediterranean cruise on the elegant Nieuw Amsterdam, the Holland America Cruise Line latest addition to its fleet .
Our chosen rendez-vous was Venice where most participants arrived 2 days before the embarkation and stayed at the Starhotel Splendid just a stone's throw away from the beautiful and historic Piazza San Marco. Needless to say every time the group meets emotions run very high especially when welcoming back both 'old timers' and 'new comers'. We had the delightful surprise visit from Milano, that of Franca Balestrieri who although unable to accompany us on the cruise came to see us off......che bella sorpresa Franca !
We sailed out of Venice on a gorgeous sunny September 1st day. Our ports of call were Croatia ; Corfu ; Greek Islands of Argostoli and Thira then up the Italian coastline stopping in Catania ;Naples ; Civitavecchia and Livorno. At every port of call a variety of excursions were available to passengers so that our group was able to disband and visit the places that were of interest to them. Every evening we would meet in a designated lounge for a social drink before heading to the dining room where we very conveniently sat together and exchanged our day's experiences. Little did most of the group know of another surprise in store for them aboard the cruise ship . Sailing with his lovely wife Nancy was none other than OVC Frank Poole from Atlanta Georgia . Although in touch through the internet we hadn't seen the Poole's since the Bulgaria reunion in 2004 but getting together one would never believe 6 years had gone by !!!
On September 12th we docked in Barcelona which was to be the end of a grand cruise but not for the Agamy group. We had arranged for our group to have an extended three days in Barcelona, we were booked at the Petit Palace Opera Garden Ramblas. Centrally located we visited Barcelona in all its splendour and would you believe ....jamais deux sans trois ........another carefully plotted surprise. This time we are joined by three Agamy group friends Joe Aboulafia (France) and Rosmira & OVC Robert Mussawir (Spain) who also weren't able to cruise with us yet came to join us for the three days in Barcelona. Call it a repeat performance but every time our 'Agamy' group gets together we invariably have a great time.
So much for this 2010 Agamy Group reunion. Believe it or not but we're all in agreement for a 2011 reunion, as usual suggestions and ideas were avidly and enthusiastically exchanged. Once again Despina and Nicole are called upon to organize the group's next get together.....inchallah!
Meanwhile the same annual recommendations are made to all participants .
Take care of yourselves , stay healthy and .....keep in touch .
God Bless
Nicole Biancardi
Venice, L>R : Jocelyne Sargologo, Franca Balestrieri, Nicole Biancardi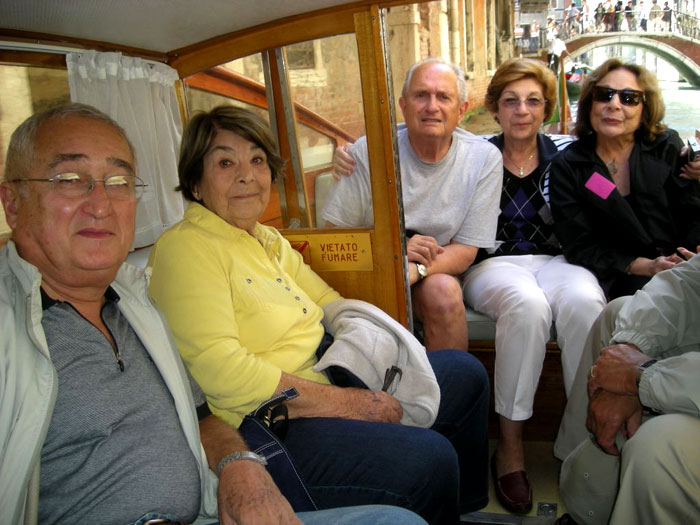 Departing Hotel Via Water Taxi To Cruise Ship. L>R : Hussein & Amina Shaarawi, George Coumbias, Jocy Sargologo, Rose Saleh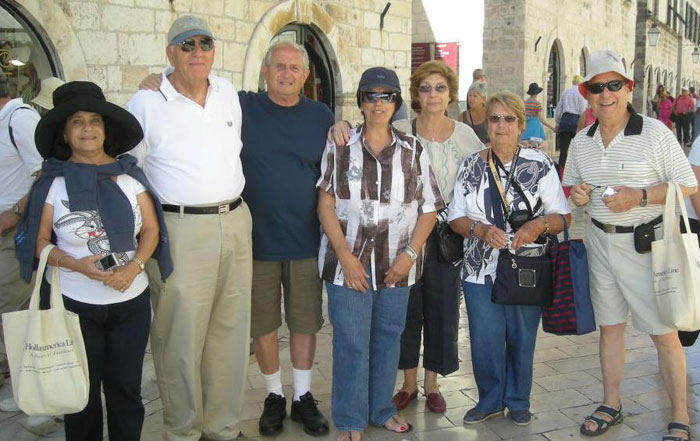 Dubrovnik Croatia L>R : Djehane Hussein, Richard Kimball, George Coumbias, Despina Rizopoulos, Jocy Sargologo, Elly Lagoudakis, Jack Rizopoulos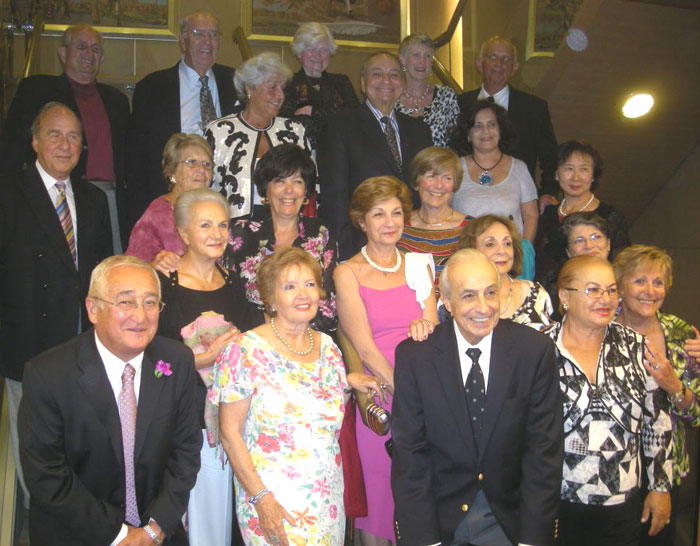 Aboard the Nieuw Amsterdam L>R Top To Bottom Row
Top Row : George Coumbias, Richard Kimball, Frances (Vi) Jarvis, Nancy & Frank Poole
Next Row : Nicole Biancardi, David Elzik, Djehane Hussein,
Next Row : Jack Rizopoulos, Elly Lagoudakis, Despina Rizopoulos, Margrit Elzik, Julie Elzik
Next Row : Huguette Levy, Jocy Sargologo, Rose Saleh, Norma Malak
Bottom Row: Hussein Shaarawi, Joelle Salloum, Youssef Elzik, Diana Garabedian, Dikrana Iranian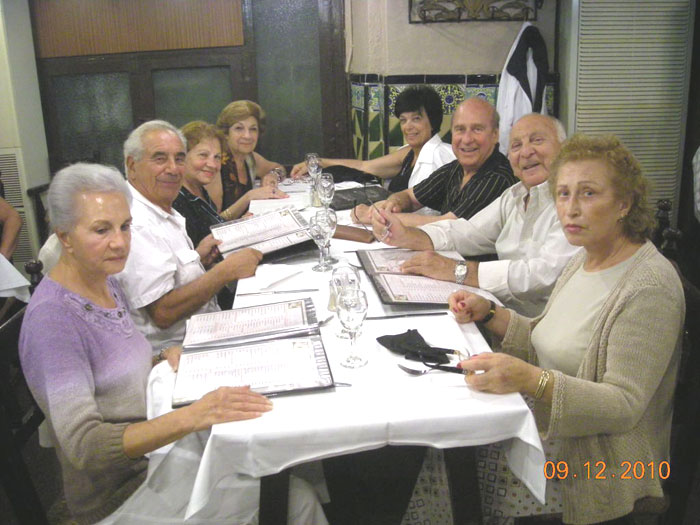 Barcelona Restaurant L>R : Huguette Levy, Joseph Aboulafia, Linda Stroun, Jocy Sargologo, Despina & Jack Rizopoulos, Robert & Rosmira Mussawir
PARTICIPANTS
Aboulafia Joe, France
Balestrieri Franca, Italy
Biancardi Nicole, Canada
Coumbias George, Canada
Elzik Youssef & Julie, U.S.A.
Elzik David & Margrit, U.S.A.
Garabedian Diana, Canada
Hussein Djehane, Egypt
Iranian Dikrana, Canada
Jarvis Frances ( Vi), U.K.
Kimball Richard, Canada
Lagoudakis Elly, Greece
Levy Huguette, Switzerland
Malak Norma, Canada
Mussawir Robert & Rosemira, Spain
Poole Frank & Nancy, U.S.A.
Rizopoulos Jack & Despina, Canada
Sargologo Jocelyne, U.S.A.
Saleh Rose, Canada
Salloum Joelle, Canada
Shaarawi Hussein & Amina, Canada
Stroun Linda, Switzerland
Conveners :
Despina Frangoudis-Rizopoulos (EGC) : tel. (514)695-0694
E-mail: info@pianosprestige.ca
Nicole Biancardi-Francescutti (SHS) : tel. (450) 465 - 7479
E-mail : nbiancardi@hotmail.com